SMA SOLAR TECHNOLOGY AG – ENERGY THAT CHANGES
As a leading global specialist for photovoltaic system technology, SMA is setting the standards today for the decentralized and renewable energy supply of tomorrow. More than 3,000 SMA employees in 20 countries have devoted themselves to this task. Our innovative solutions for all photovoltaic applications and our unsurpassed service offer our customers worldwide greater independence in meeting their energy needs.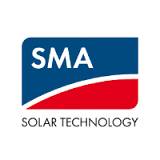 Solar Inverters
For all module types, for grid-connection and feeding into stand-alone grids, for small house systems and commercial systems in the Megawatt range and for utility-scale PV power plants up to the multimegawatt range.
Battery Inverters
Sunny Island and Sunny Central Storage offer you first class possibilities in the installation of self-sufficient energy systems and for optimized selfconsumption with grid-connected battery systems.